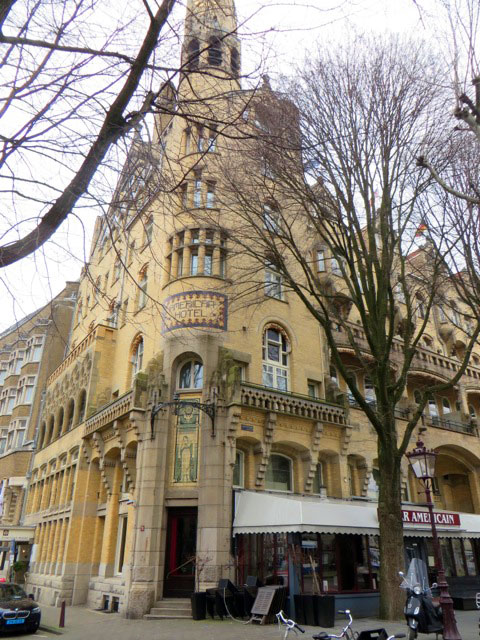 Last night I visited one of my old haunts, the Cafe Americain located in the venerable Art Nouveau landmark, the American Hotel. The grand hotel, built in 1902, remains a landmark and central meeting point in the heart of the city, sitting as it does on the busiest hub of activity day and night, the Leideseplein.
In the 19th century the "grand cafe" was an institution in the old cities of Europe. Today many of these opulent venues have been preserved and are patronized by fashionable folks, business people and tourists. The beautiful Art Deco interior of the Cafe Americain is in this tradition. Much of the hotel has been renovated and changed—the lobby area is as plain as can be—but the bar and cafe with the stained glass windows, the plush furniture and the chandeliers—happily these are preserved in their original state. This is a cafe with a history.
Less opulent than the grand cafes, but often very beautiful are the coffee shops ("koffie shops") and salons de the that abound in old Amsterdam. They are often historic and beautiful, and often attached to confectioners, patisseries and delicatessens. The Dutch "koffieshop" spelling is to distinguish this type of cafe from the smoking coffeeshops where cannabis is openly sold and smoked.