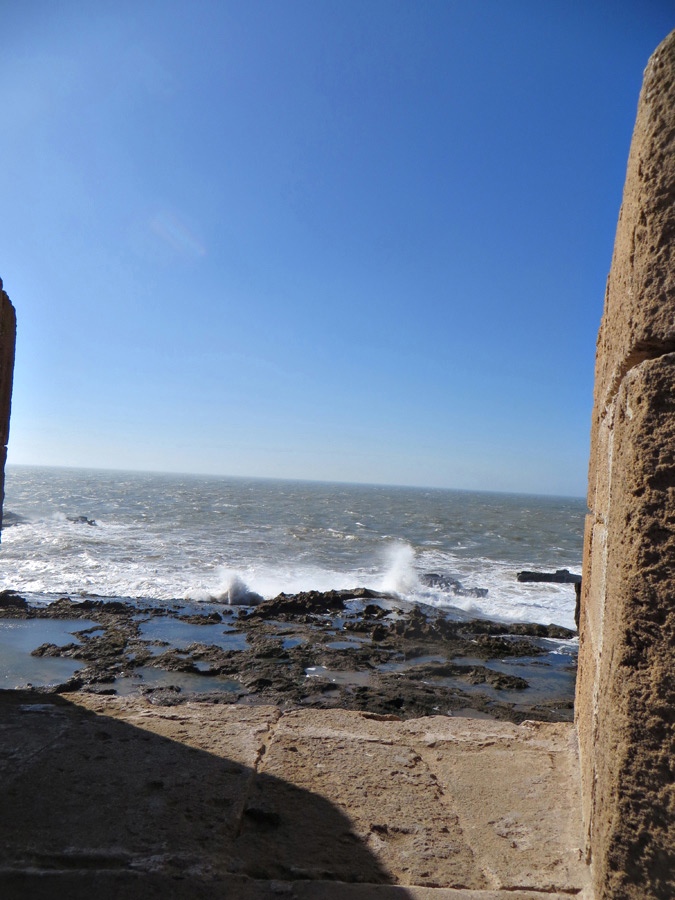 First impressions upon arriving the Atlantic coastal port town of Essaouira at midday on an early spring day: clear, brilliant light; wind and crashing ocean waves and screaming gulls; whitewashed buildings that look inviting, familiar, European. And then you go through the walls that surround the medina, and there you are in Morocco, North Africa. The town is not a tourist town really–though it is a gem for tourists to discover. It has a unique atmosphere with narrow winding streets, small shops with well-crafted items to buy, and white-washed houses with the loveliest collection of old wooden doors. It is a town with a distinctive character, not just due to its venerable age, but to its existence as a harbor and port at a crossroads for trade and interaction between many Europeans and the northern Arabs and southern Berbers and other peoples of Africa.
History of Essaouira … excerpt from Lonely Planet Morocco follows…
Most of the old city and fortifications in Essaouira today date from the 18th century, but the town has a much older history that started with the Phoenicians. For centuries, foreigners had a firm grip over the town, and although Moroccans eventually reclaimed it, the foreign influence lingers on in the way the town looks and feels today.

In 1764 Sultan Sidi Mohammed ben Abdallah installed himself in Essaouira, from where his corsairs could go and attack the people of Agadir, who rebelled against him. He hired a French architect, Theodore Cornut, to create a city in the middle of sand and wind, where nothing existed. The combination of Moroccan and European styles pleased the Sultan, who renamed the town Essaouira, meaning 'well designed.' The port soon became a vital link for trade between Timbuktu and Europe. It was a place where the trade in gold, salt, ivory and ostrich feathers was carefully monitored, taxed and controlled by a garrison of 2000 imperial soldiers.

By 1912, the French had established their protectorate, changed the town's name back to Mogador and diverted trade to Casablanca, Tangier and Agadir. It was only with independence in 1956 that the sleepy backwater again became Essaouira. After Orson Welles filmed Othello here, and following Jimi Hendrix' fleeting visit and hippies choosing Essaouira as a hang-out, the town has seen a steady flow of visitors, from artists, surfers and writers to European tourists escaping the crowds of Marrakesh.