A ten-day exploration of the charms of the French Riviera and the grandeur of a Rhone River cruise.
The following is a detailed report that follows our trip itinerary and includes traveler's notes on the places we visited, impressions of our river cruise and hotels, meals and wines we enjoyed, notes on some hotels and excursions we made either with a group or on our own.
Part 1: Nice, Eze, Aix-en-Provence, Arles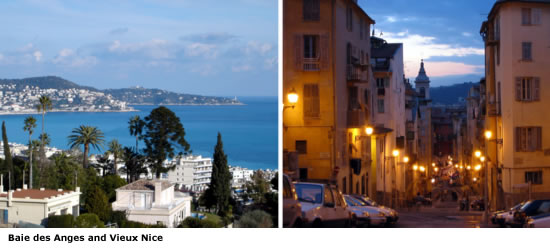 Days 1-2 PARIS CONNECTION. Our 10-½ hour flight from San Francisco is not too painful, until we arrive Charles deGaulle airport, which is undergoing major renovation. Unfortunately we are herded onto airless, overcrowded shuttles and bused around the construction site for mile after uncomfortable mile. Not a very nice welcome to La France! At last we arrive F terminal for our connecting flight to Nice. A long wait at Hertz for our rental car, and we are finally en route, Steve driving and me straining over a French map, as we make our way to the city of Nice, capital of the French Riviera.

NICE is also under construction! Which makes it difficult to get to Hotel Massena. Located on Place Massena, it will one day be a fine location to stay and a good moderate hotel—but for us it is a serious challenge to get to the single street not blocked off that provided access to the hotel.  A brief rest in our tiny room, and then we're out on foot, to explore Old Nice and the waterfront. We choose a tiny bistro,  Lou Pistou, for our first meal: artichoke ravioli with a lovely sauce with violets, spinach and crisp white Cotes de Provence wine. Madame gives us friendly service and Steve tries out his rusty French, while Monsieur cooks our meal in a postage-stamp size kitchen.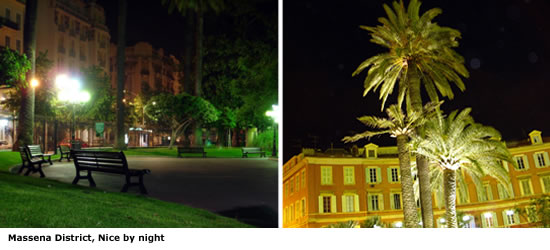 Day 3 NICE. Good breakfast in the hotel dining room. Up early we explore old town and hike up Castle Hill park. Visit the old Jewish cemetery. At the top we have a great view of the entire city and coastline. We wander the flower, fruit and fish market at Cours Saleya. Pick up our Citroen and enjoy an easy pleasant drive out of Nice to the medieval village of Eze. Patrick from the Tourist Office provides us with a delightful walking tour of Eze, the old fortified city with its cactus garden and beautiful church. Then we are welcomed like VIP guests at the terrace restaurant of Hostellerie Chevre D'Or. Shaded by a market umbrella, we dine on the sunny terrace, perched high up on the cliffs above the magnificent Mediterranean coastline. Our chef's menu luncheon consists of terrine of liver and pistachios followed by delicate white fish with mushrooms and shallots on creamy polenta, followed by salad of watercress and a patty of fresh and delicious goat cheese, for which we are offered a selection of herb toppings. A crisp Cote de Provence white and a dessert creation that included butterscotch glace, mousse and spun sugar wafers, and then café creme. After lunch we meet with Fabienne, the charming sales manager of the Chevre D'Or for a site inspection of the hotel.  The hotel shows itself to be as unique as its setting is awesome. Rooms and suites are fashioned out of various historic buildings around the village, and each is different to accommodate the old walls. The several we saw looked very comfortable, very luxurious and very much with a sense of place. The gardens and public areas offer perfect spots for rest and relaxation. This hotel is truly a  one-of-a-kind rare gem.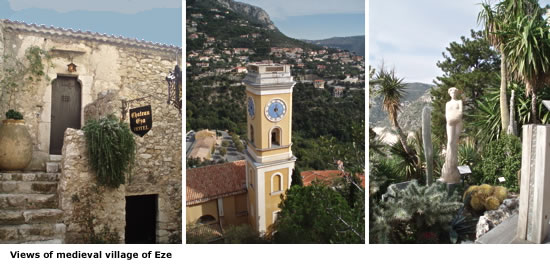 In the afternoon we continue the coast road to Monaco, where we stroll in the garden exotique and up to the Palais and through some of the old town. We miss our turnoff to Nice and take a route through suburbs clogged with traffic. Difficulty again getting to our hotel because of construction. Back in our room we enjoy a bottle of Sancerre and try to stay awake as long as we can.
Day  4 NICE-AIX-EN-PROVENCE.  A morning walk on famous Blvd. Anglais. I have a quick peek at the tired old Hotel Negresco, and then we hit the road again, highway A8 out of Nice to Aix en Provence.  In Aix we check into Hotel Cezanne, a good 3 star hotel with big Provencal style rooms and helpful staff. Out in the streets crowded with students, Steve remembers his student days here many years ago. His first time back, he is dismayed by traffic, crowds and the luxury chain boutiques that seem to have replaced the patisseries and small shops. My impressions are of a lively city populated by well-heeled and chic young people. We have dinner in a crowded Italian restaurant on Cours Mirabeau. Gnocci and a good red Cote de Rhone.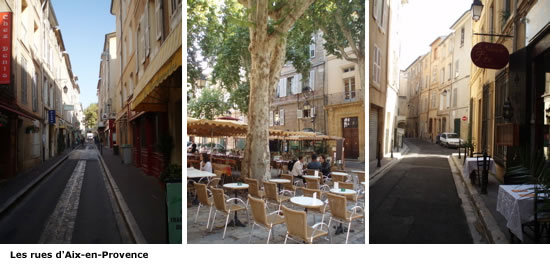 Day 5 AIX-EN-PROVENCE. Petit dejeuner at tiny sidewalk café on the street below our room. A morning walk to the old town and farmers market, visit to the Cathedral and Cezanne atelier. Took a taxi to the outskirts of town, to find ourselves in an  unattractive area of car lots, until we turn into a tree-laned driveway and then the grand entrance to the beautiful Chateau de la Pioline. Here we have one of the best dining experiences of our trip. Lunch was served en plein air on the chateau's large patio shaded by centuries-old lime trees. The day was warm and sunny, and an occasional gust of wind picked up fallen leaves. The tables were spaced far apart and set elegantly, and every one held diners enjoying a long leisurely lunch, a French custom that became dear to us in the course of our trip. The menu this day included a soup of baby clams in a rich saffron broth, whitefish on creamy risotto, a fabulous duck entrée for Steve, a delicious white burgundy Chateau Grand Seuil, and desert of chocolate crème brulee. The kind of lunch that leads to an afternoon nap. Before leaving, though, we toured the formal French gardens and park-like grounds, and saw several of the 33 rooms and suites. The Chateau is run as both a 4-star luxury boutique hotel and as a site for groups and special events.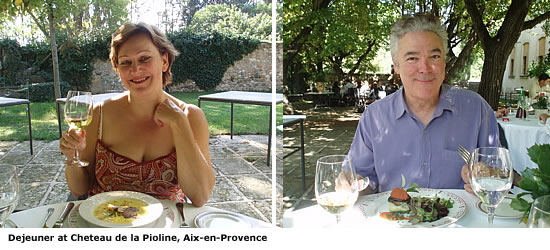 Day 6 AIX-EN-PROVENCE-ARLES.  We find highway A7 Route de Soleil headed for Salon de Provence. Some tense moments when we get in the credit card line at the tollbooth and the machine rejects all our credit cards. We exit at the town of Cavaillon, an important town in the Ardeche region. We have a café and then stop into the tourist office for maps. Our next stop is the town of Apt where the Saturday market is in full swing. We enjoy the sights and sounds and buy a carton of paella, which we eat by the river.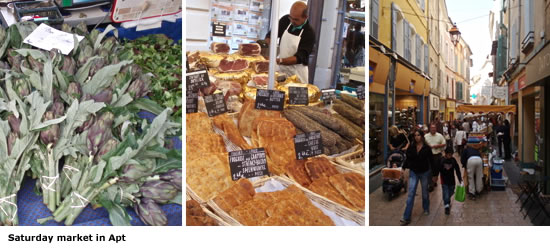 We continue to the medieval mountaintop village of Gordes where we enjoy the view from a little streetside café with local wine and fat ripe figs. Continuing on, we detour off the main road for a quick look at Les Baux—an amazing geological wonder. Then the final stretch to Arles, where we fill the gas tank—40 euro for ½ tank—and return the car. A short cab ride takes us to Quai Lamartine, where our riverboat, the Princesse de Provence is docked. A nice welcome, but the cabin seems small, the beds are like bunks, and we're not sure what to expect. Our tablemates are a lively group from Virginia and Denver and we get acquainted with our young German waitstaff.