To quote UCLA Professor Stanley Wolpert in the opening paragraph to his masterful work, India, "India is at once the oldest and most sorrowful as well as the happiest and most beautiful civilization on earth."
I confess, I am hopelessly enchanted and ensnared by the wonderful mystery that is India. I feel compelled to visit India again to continue my personal discovery of this fascinating, ancient, visually splendid, surprising and deeply affecting destination. I promise that anyone with the desire and the opportunity to travel to India will be rewarded with an unforgettable host of experiences, impressions and images. And key among those will be the open and welcoming faces of Indian people, and the warm hospitality that the gentle traveler will surely receive. The following are notes from a two-week long journey I took through South India with a small group of intrepid travelers, during the Monsoon season. The trip was provided by SITA Tours—the number one tour operator in India. It was designed for travel agents, so the trip was rigorous and fast-paced, with many overnight hotel stays and visits to other hotels as well as tourist sites. However, I found that this did not stop me from absorbing an avalanche of sights and sensations as we traveled through the region of southern India between the Bay of Bengal and the Arabian Sea.
Part 1: Trans-Pacific flight-Singapore, Cochin, Kumarakom, Thekkady
Days 1 Trans-Pacific flight-Singapore. A long flight brought me to Singapore, where we had an eight-hour layover. Rather than hang around the airport, a colleague and I had made arrangements to relax and have a fine lunch at the stylish and luxurious riverfront Hotel Fullerton. I took a walk along Orchard Street to get a feel for modern and urbane Singapore, and to visit the famous 100-year-old colonial landmark, Raffles Hotel. It's easy to enjoy a day in Singapore if you have a long layover, as many trans-Pacific travelers do, before a night flight onward.
Day 2-3 Cochin. We arrive Cochin, an old (very old—over 1000 years old) port city on the Malabar Coast, the Western coast of the south India state of Kerala. Cochin is a cluster of islands surrounded by a network of rivers, lakes and estuaries. The Jews arrived fleeing Babylon in the 6th century B.C. and the Jewish community had a long presence here. The Portuguese were here in the 15th and 16th centuries, controlling the important spice trade until the late 1700's when power passed to the Dutch and then the British East India Company. At Indian Independence in 1947 Cochin became a leading port and naval base. Cochin expresses the eclecticism of Kerala with its old European buildings and beautiful synagogue , the oldest in the British Commonwealth, its palaces, its Mosques, its Chinese fishing nets from times when Kerala traded with the Chinese court. We walked the streets of Jew Town and wandered through wonderful curio shops crammed with handcrafts and antiques. Our hotel was the Taj Malabar, the first of many lovely Taj hotels that we would enjoy on this trip.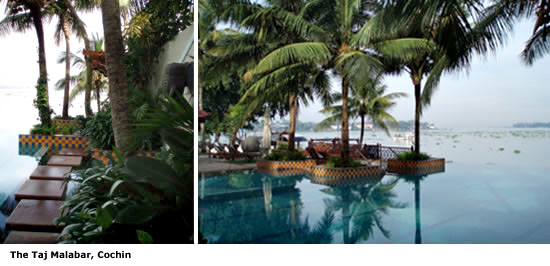 Day  4 Kumarakom.  Before breakfast I had a swim in the infinity pool that gave me the illusion of swimming into the Arabian Sea.
Then on to Kumarakom, an enchanting village on the banks of Vembanad Lake and jumping off point for the lush backwaters area. In Kumarakom we were shown to our accommodations at the Taj Garden Retreat, strolling through lush gardens and lagoons en route to our units. These were a bit rustic and showing signs of tropical decay, but were also charming and spacious cottages with high ceilings, old Kerala style furniture, outdoor bathtub and shower, and a verandah overlooking a pond. We enjoyed a wonderful lunch with shrimp and fish and spicy dishes. Toward sunset we met at the hotel's pier to and went out on a wooden open-air boat. As dusk came and the sky filled with color, a tabla player and a flutist lulled us into the moment. Our talk ceased, and our group of jet-lagged travelers relaxed and began to realize where we had arrived, so many air miles from home.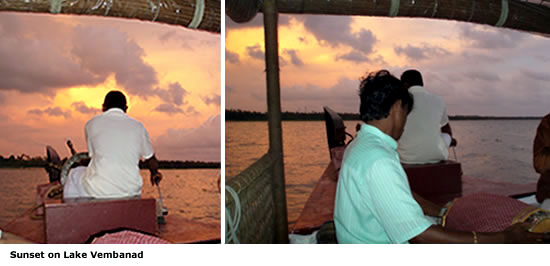 Later we went by boat to another unique hotel property, the Coconut Lagoon, part of CGH Earth Casino Group of Hotels. This Kumarakom resort, accessible only by water, is an eco-resort, and a place with a particular vision, and a particular loveliness. Accommodations are in theravads, traditional wooden bungalows and mansions, old Kerala-style homes, some of them more than 400 years old, that have been moved and carefully preserved and made into beautiful, rustic accommodations. The resort also offers an Ayurveda spa, a yoga and meditation center, and a butterfly sanctuary. We enjoyed a fabulous buffet featuring Kerala cuisine, which is remarkably varied and delicious, and very surprising for my palate. The beauty of our open air restaurant, a restored traditional tile and timber mansion, the fantastic food, our gracious host, the wonderful friendly service of the wait staff, the sounds and fragrance of the tropical evening—this was a very memorable evening at a unique hotel.
Day 5 Kumarakom—Backwaters. This morning we took a boat ride through the Backwaters, an isolated and beautiful treasure of South India. The Backwaters is a series of canals and lagoons that snake their way through tropical forests, rice paddies and tiny villages on the water. I snapped photo after photo, trying to capture the sights of people going about their daily life on the water's banks: a woman cleaning fish with a cat worrying; a man paddling a boat full of silver fish; workers wearing brilliant colors in the green expanse of a rice paddy. We saw the luxury houseboats that can be rented to travelers who wish to spend a night or two on the backwaters—these are quite spacious and look like they would be quite comfortable and great fun for a group of friends traveling together. Air conditioning would be essential, however.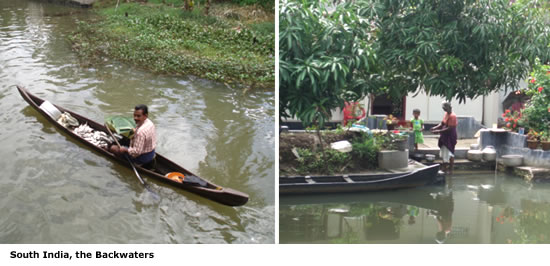 For lunch this day we were hosted by Kumarakom Lake Resort, the finest luxury heritage resort in India. Set on 25 breathtaking acres of lush gardens and lagoons, its villas and suites are exquisite reproductions of 16th century Kerala royal opulence.  The resort features modern comforts and New Age amenities including Ayurveda spa and meditation center, health club, multi-cuisine restaurants and many other luxuries, all in a one-of-a-kind ambiance that will astonish and delight the fortunate guest of such a place.
For dinner we were guests of the other 5-star, world class resort on Vembanad Lake, the Radisson Spa & Resort. This is another dazzling Kumarakom property, and it boasts one of the very finest spas in India—definitely a world class spa and the best we saw in India.  The resort is built on 18 acres and features villas with private pools, spacious lagoon view cottages, and all modern amenities.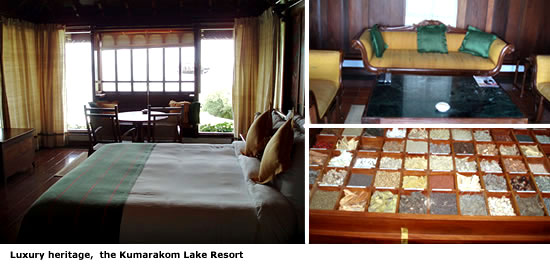 Day 6 Thekkady. Back on the winding road in our 8-passenger van with our "Master Pilot," our excellent driver Manozh at the wheel and Alex, our tour guide riding shotgun. We travel rough mountain roads, stopping at a tea shop en route, a little place at the edge of a gorge choked with tropical forest, and on the mountain walls in the distance many cascades. We leave Kerala and enter Tamil Nadu provide to arrive Thekkady.
Thekkady is a unique 300 square mile wildlife sanctuary, surrounding a lake fed by the Periyar River. Here we visit another ecolodge-type property with a unique setting and atmosphere—and I realize it is another of the CGH Earth Casino Group of Hotels properties—this one called Spice Village. Set in the Periyar wilderness it truly is a nature resort, a quiet extension of the rainforests and plantations of the area. Modeled after the jungle dwellings of the local tribes, the cottages are built of split bamboo and elephant grass. The extensive organic gardens and spice trees provide us with perhaps the best, most delicious and beautifully presented vegetarian lunch buffet I have ever had the pleasure of enjoying. This was Kerala cuisine made with the freshest of ingredients and spices. The resort offers boat safaris in Lake Periyar, trekking, spice plantation visits, Ayurveda spa, yoga and meditation, and culinary programs.
Again I sense the unique vision that seems to pervade the CGH Earth Casino Group of Hotels properties that I have seen.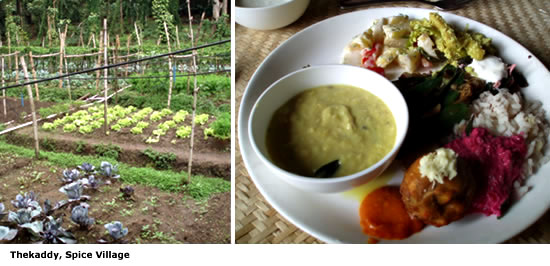 NEXT PAGE | Madurai, Tanjore, Pondicherry and Mahabalipuram, Kanchipuram and Chennai (Madras)