A ten-day exploration of Vietnam
As an American who remembers well the war in Vietnam, to be a tourist in Vietnam means to revisit the war on some level. Vietnam will always be the place where a terrible war was fought and millions of people, including more than 58,000 Americans suffered and died.
But Vietnam is a country with a long history that preceded those dark years, and with the march of time, and the growth of its booming Asian economy, Vietnam has become a fascinating and wonderful travel destination. The country is experiencing a rebirth, and the pace of its changes are truly remarkable. With the government committing millions to preserve its cultural and historical sites and to improve infrastructure, tourism is fueling this change and is, I believe, a positive force in the country's development.
The following is a detailed report that follows our 10-day trip itinerary and includes traveler's notes on the places we visited, hotels we stayed, excursions we made and some observations.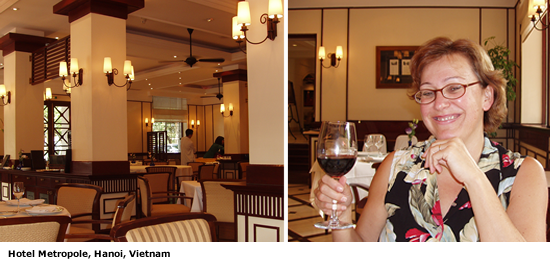 Hanoi to Halong Bay
A comfortable 2 hour flight from Hong Kong brought us to Hanoi in the north, capital of the Socialist Republic of Vietnam. We were met by Van, our lively young tour guide, and transferred by minibus to our hotel, one of the loveliest of the grand old French hotels in Vietnam, the Sofitel Metropole. There we had showers and a lavish Sunday brunch with oysters from the South China Sea, along with a vast array of salads and deserts, and a good French wine.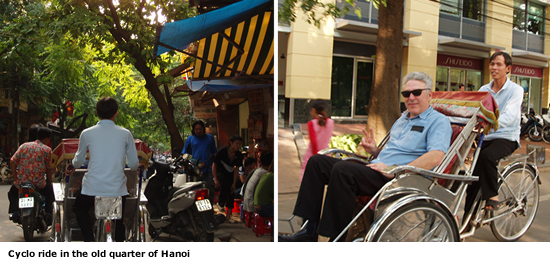 We ventured from our beautiful hotel feeling like aliens just landed from another planet. When a pair of cyclo (pedicab) drivers offered to pedal us around for a few dollars, we climbed aboard and off we went for a taste of Hanoi's Old Quarter. This is the thousand year old commercial center of the city that evolved alongside the Red River and the To Lich River that once flowed through the city in a network of canals. As we were pedaled at a brisk pace through the maze of narrow streets I clicked away on my digital camera, astonished as I tried to capture the amazing scene of people and activity. I could have spent days strolling this area, and I'm sure I would been rewarded with a good dose of Vietnamese culture, not to mention endless opportunities to buy lovely things at very low prices, but our itinerary called for our departure next day.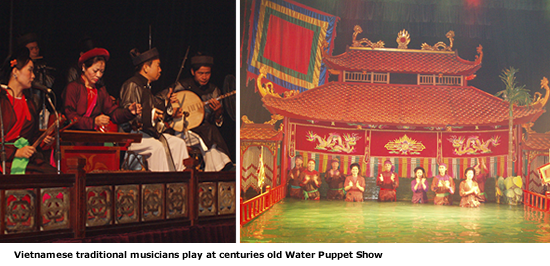 But not before an evening experience of the famous centuries old Water Puppet Show at a little theater near lovely Hoan Kiem Lake in the center of Hanoi. This was a charming show with wood puppets moving on a pond, operated by puppeteers standing in water behind a screen. Historical vignettes and folk tales were reenacted, with Vietnamese musicians playing traditional instruments as musical background.
The next morning we saw more of Hanoi—the lovely architecture of its ochre colored French provincial buildings, green parks with people of all age groups playing badminton, lakes and shaded streets. We also saw crowded boulevards, and everywhere bicycles and an alarming numbers of scooters. We saw that a little scooter can carry a couple, a triple or even a family of four, or an amazing volume of goods.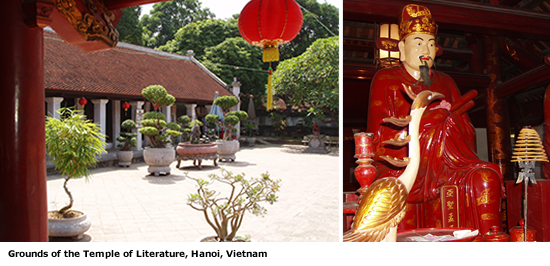 We visited Ho Chi Minh's Mausoleum and the central square where President Ho Chi Minh read Vietnam's first Declaration of Independence (from the French) in 1945. We visited Ho Chi Minh's Stilt House, and the Temple of Literature, Vietnam's first university, dating from 1070.
In the afternoon we traveled north to Halong City, for an overnight before our boat trip on Halong Bay. Magnificent Halong Bay, with its 3000 islands rising from the waters of the Gulf of Tonkin, is one of the natural marvels of Vietnam and in 1994 was designated a World Heritage Site.
We enjoyed the trip in our private junk, a rustic old boat, with our guide Van (who steadfastly guarded her skin from the sun—white skin being an important asset to all Vietnamese women), and a skipper and cook. We landed on an island where Van lead us through a deep cavern filled with stalagmites and stalactites, and lit so we could see and take some snapshots. Later we landed again at an island with a sandy beach so that I could have a refreshing swim in the South China Sea. Then as masters of our junk, we feasted as we were served course after course of the freshest seafood—little spotted crabs, prawns, shrimp, squid, and a delicious white fish wrapped in green leaves and seasoned with lemon grass.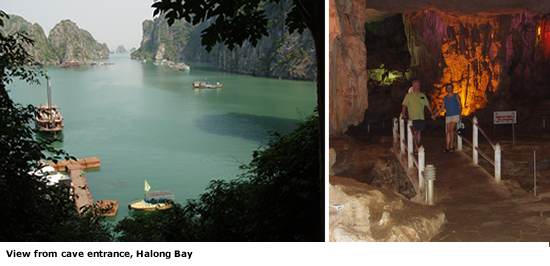 NEXT PAGE | Amazing Vietnam: Hue, Hoi An