Hue, the Royal City to Hoi An, the Ancient Town
A drive back to Hanoi and then a short flight brought us to Hue, the Royal City, the heart of Vietnam and the capital of the country for a century and a half (1802 to 1945) through the reigns of the 13 emperors of the Nguyen Dynasty. In Hue we were met for our guide for the next few days, Mr. Hong Nguyen. Hong, formerly a schoolteacher, was a very experienced guide, and a wonderful travel companion. Our hotel in Hue was an historic one, the Sofitel Saigon Morin. As we relaxed in a spacious turn of the century room with a sitting area and French doors that opened onto a courtyard, we heard exotic sounding music wafting up. We went down to the hotel restaurant and enjoyed a wonderful dinner of Vietnamese dishes, sitting in the open courtyard, with a performance of classical musicians such as would have performed in the royal courts of Hue. This was a magical evening.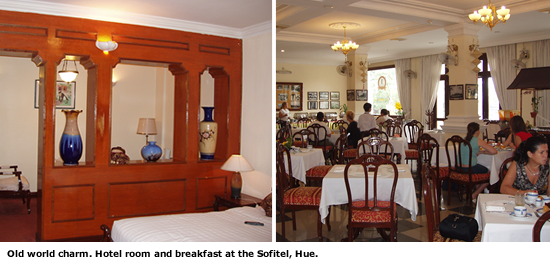 The next day with Hong we visited some of the most exquisitely beautiful places. Tourism may have saved Hue's cultural sites, and the government's recognition of the city's tourism potential along with the 1993 UNESCO designation as a World Heritage Site meant that the rampant decay of these old buildings was stopped and restoration and preservation work is being done. When you see these palaces and royal courts and splendid tombs, you will understand how fortunate this is, especially given the fact that so much of this cultural heritage was destroyed during the bloody battles of the Tet Offensive of 1968 when 10,000 people, mostly civilians, were killed.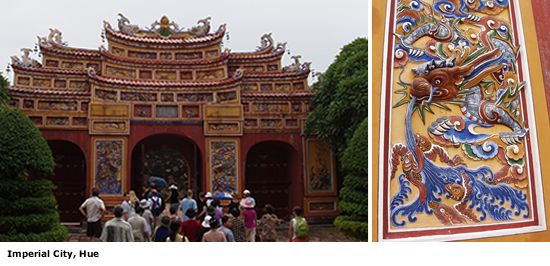 We took a cruise on a dragon boat on the Perfume River to visit Thien Mu Pagoda, the oldest and most important Buddhist shrine in Vietnam. Then we visited the tomb and complex devoted to the most beloved of the 13 emperors, King Minh Mang. This was a lovely place, like something out of a dream.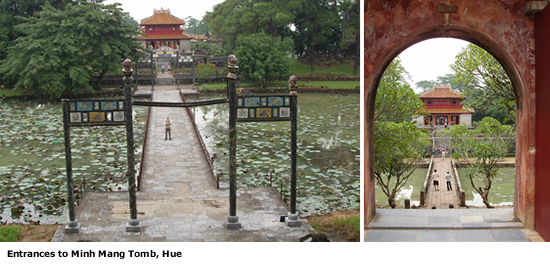 We strolled around the Imperial City, comprised of the Royal Citadel, the Imperial Enclosure and within it, the Forbidden Purple City, the private residence of the emperor, which was almost entirely destroyed. A few buildings such as the Emperor's Reading room have been partially restored.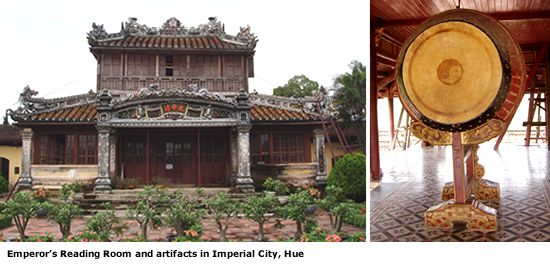 We left the Royal City of Hue and drove over the Pass of Ocean Clouds to Da Nang and on to the ancient town of Hoi An, a designated World Cultural Heritage site. Hoi An is an enchanting town on a river that until the late 19th century linked it with the sea. Hoi An was one of Southeast Asian's major international ports during the 17th, 18th and 19th centuries and an important port of call for Dutch, Portuguese, Chinese, Japanese and other trading vessels. During French colonization Hoi An was an administrative center, and it was the site of the first Chinese settlement in southern Vietnam. The sense of history envelopes you as you wander the pedestrian-only streets of this atmospheric town.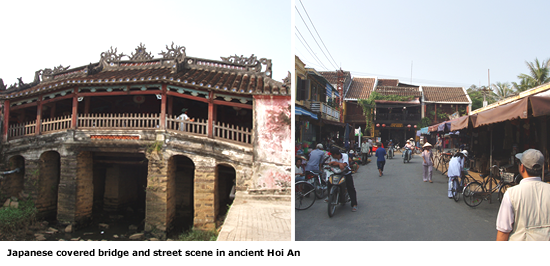 Hoi An is a shopper's paradise. It has numerous tailor shops and all feature fabric bolts of many types of silk and locally produced cottons. Short on time, I inquired how long it might take to have a silk dress made for myself. The shop girl took my measurements, helped me choose fabric (a sturdy Thai silk with blended threads of orange and pink!) and a style from a book, and told me to come back in an hour. My dress fit perfectly with no alterations, and I waited as they finished the hem and sent me on my way—a delightful experience. I also picked 3 fabrics, silk and cotton-silk blends) for my husband and had them copy a favorite shirt, for which I was charged $10-$15 per shirt.
Although there are hotels in Hoi An, we spent two nights five kilometers away at lovely Cua Dai Beach in a luxurious, low rise, Asian style beach resort, the Victoria Hoi An Hotel. Here we enjoyed massages ($15 per hour), a splendid dinner buffet of Vietnamese dishes including the local dish Cao Lao, a long refreshing bath in the South China Sea, a swim in the pool and the antics of the resident elephant named Darling.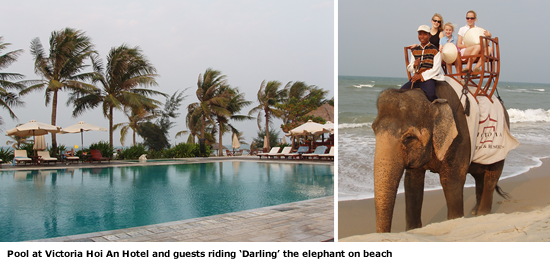 Hong took us on a morning excursion to My Son Holy Land. This site was the intellectual and religious center of the Champa Kingdom during it's heyday from the 4th to the 13th centuries. These were Hindu people and this site ranks with the famous temples of Angkor Wat in archeological importance. The site of these structures and the carvings and sculptured stone in the lush jungle setting make a dramatic impression. Among the ceremonial structures we also saw a number of bomb craters filled with water—reminders of the destruction this area endured during the American War. We were lucky. When we arrived descendants of Champa people were performing an ancient religious ceremony with music and dancing. This did not seem to be something that was staged (there were few tourists around) but something quite authentic and unique.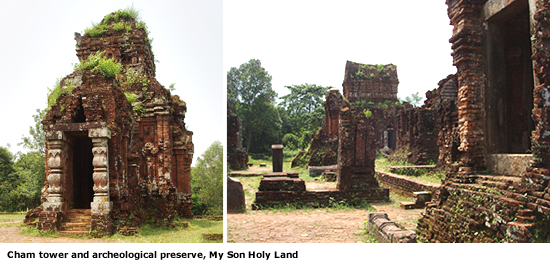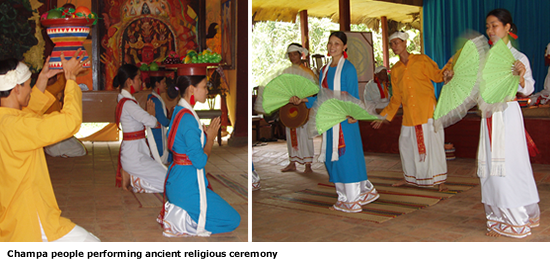 We had a late checkout and a drive to Da Nang airport for our evening flight to Saigon (Ho Chi Minh City).
NEXT PAGE | Amazing Vietnam: Saigon, Dalat, Mekong Delta