Amazing Vietnam: Saigon, Dalat and the Mekong Delta
In Saigon (Ho Chi Minh City) the next morning, our 3rd and last guide, Tong, gave us a morning tour of the city, including the French architecture of the Notre Dame Cathedral and the Municipal Post Office. We visited the National History Museum, which was housed in a beautiful Sino-French style building. In the afternoon we embarked on our 308 kilometer journey to Dalat City.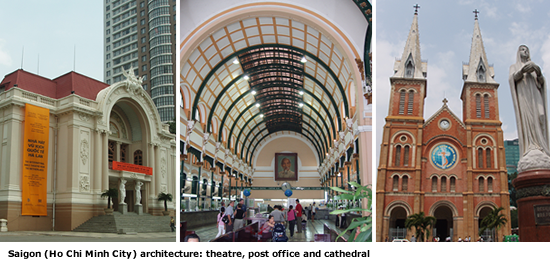 Into the Cool Mountains of Dalat
For the trip through the central highlands we were once again glad we traveled in a good car with a good driver as well as a guide. We enjoyed our journey through small towns and along stretches of agricultural lands and large coffee and tea plantations, to finally arrive in the old French resort town of Dalat. This lovely city is a market center for the many members of hill tribe communities , the Montagnards, that live in remote areas in the region. The western highlands area has lost much of its former beauty due to destruction during the American War as well as the expansion of agriculture.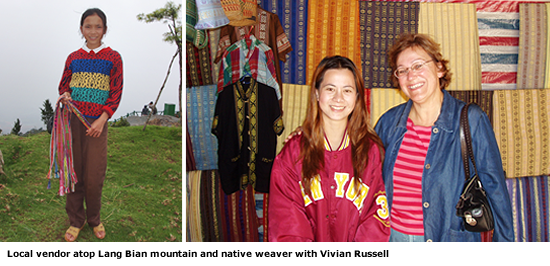 We took a morning excursion by jeep up to the peak of Lang Biang Mountain. We visited a village and shop were a family of textile weavers showed me their looms and their beautiful pieces. I bought two large predominately red weavings, one to grace my dining room table and one serves as a bed coverlet. We visited a kind of art or trade/boarding school dedicated to training and creating masterpieces of embroidery "paintings." This was a lovely place where we were treated as welcome guests, even though we didn't buy. Later I treated myself to a new experience, a Thai massage. A young woman who could not have weighed more than 100 pounds gave me a powerful therapeutic massage that greatly relieved my travel aches and pains. I tipped her too much, unable to accept that here great efforts and skill were valued at a mere $15 per hour.
We enjoyed a long, romantic dinner in the formal French dining room of the Sofitel Dalat Palace. In a nearly empty dining room, we enjoyed an elegant waiter, French wine, rich foods with delicious local produce and a pianist.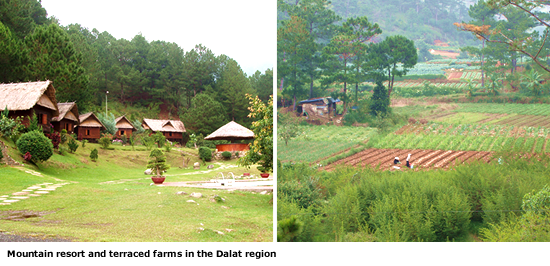 Back in Saigon and the Mekong River Delta
You take your life in your hands when you cross the street in Ho Chi Minh City (locals still call it Saigon), faced with an endless stream of motorbikes. Our guide was emphatic when he told me I must not hesitate or race across the street or I would "confuse the drivers" and surely be killed. You must walk steadily and deliberately to the other side without looking at oncoming drivers. It takes nerves of steel. Life in Saigon these days is high adventure. It is a city of 5.3 million people, most of them under 30, and most it seems are on moving motorbikes. It is a safe destination. Last year 2.5 million tourists visited the city and new direct flights on U.S. carriers are coming soon. It's a great time to visit this fascinating country.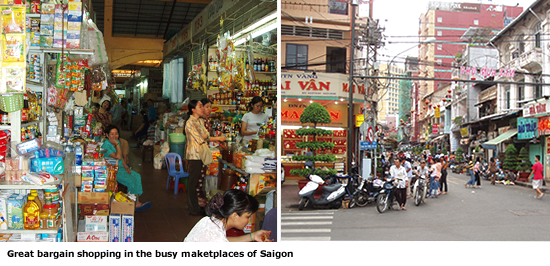 On our last day, my husband stayed around our beautiful riverside hotel, the Majestic, while I left with our driver and guide to the Mekong Delta, the rice basket of Vietnam. This area produces enough rice to feed the country as well as a large surplus for export. It a a heavily populated rural area. The Mekong is one of the world's great rivers, originating in Tibet and flowing through China, Laos, Cambodia and Vietnam to reach the South China Sea.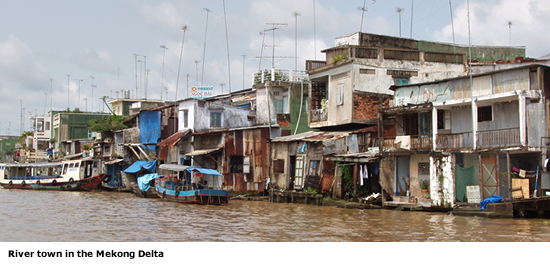 In the river town of Mytho, I was introduced to my local guide, Tam, a charming young woman, a graduate of HCMC University, with an easy laugh and a good command of English. We went by boat to Dragon Island, a lush green island with wooden fishing boats lining its shores. We walked through little villages, stopping to taste tropical fruits and coconut candy produced in a very quaint open air factory operation (picture boiling caldrons of sugar syrup). I rode in a cart on little paths and crossed a hanging bridge, and then donned a conical hat and took a spot in a low boat, to be poled along a canal by a smiling village woman. Tam told me how worried her family was about her, with her unmarried status at the ripe old age of 26.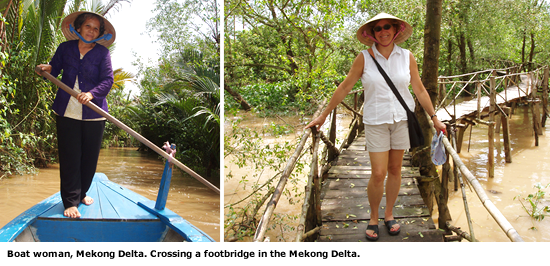 Vietnam made a deep and lasting impression on me. The images and the sensations I experienced on this trip, along with the warmth and kindness of these genuinely sweet people, created memories I will always treasure. Vietnam is no longer a war—Vietnam is a place and wonderful and rewarding travel destination. If you have ever been inclined to visit this country, or if you were once there in wartime, now is an excellent time to go.