Part 3: Mysore in Karnataka Province, Belur and Halebid, City Palace Mysore, Bangalore—flight home
Day 11 Early train to Mysore in Karnataka Province. Our tour guide puts me on a 6AM train for a 7 hour trip to Mysore in the interior province of Karnataka. Mysore, the cultural capital of Karnataka, is a city of palaces, gardens and parks, dominated by the awesome City Palace (Maharaja's Palace). I check into a large corner suite at the Sandesh the Prince hotel, conveniently located next door to a huge silk fabric store where later I have blouses, slacks and a skirt made for me. I dine alone in the hotel dining room where it seems a small army of waiters are eager to provide my every whim.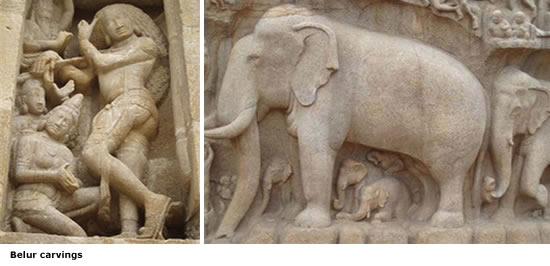 Days 12 Belur and Halebid. An amazing day. With driver and guide we head first to the site of Sravanabelogola. My guide, who is suffering from a foot injury, leaves me to climb 700 steps. This complex has Jain shrines with fine carvings from the 12th Century, and a 57 foot high 10th century nude statue.
Then we proceed to Belur and Halebid. These are great temple sites from the Hoysala dynasty who ruled Southern Karnataka from the 11th-13th centuries. These are built of soft soapstone and the deep relief carvings are the most intricate and detailed. At Belur I'm captivated by sculptures of voluptuous female figures, bands of elephants, musicians, dancers and deities—all carved in astonishing detail. This is one of the monuments of medieval art in India. At Halebid again the lions, elephants, horsemen, celestial beasts and birds, narrative friezes and scenes from Hindu epics. As we circle around the star-shaped temple, my guide tells me the stories depicted. There's Brahma on his swan, Krishna playing a flute…
Days 13 City Palace Mysore. The City Palace in the heart of Mysore stands as a reminder of the splendor and opulence of the maharajas, the illustrious Wodeyar kings who ruled their kingdom from this royal city. The Palace of today replaces three earlier palaces that were destroyed. This one was designed by the British architect Henry Irwin and completed in 1912. It is a splendid 3 story building of granite and marble, with a 145-foot dome gilded in gold. On Sundays and holidays it is illuminated with 97,000 light bulbs.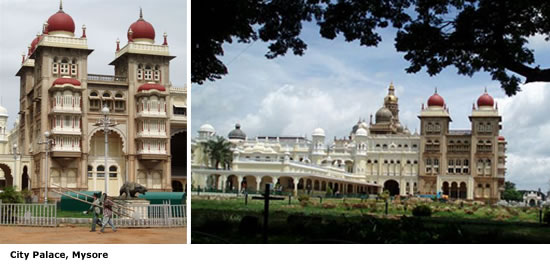 All around the sprawling palace, there is much to see. There is the portrait gallery, the royal armory, collections of costumes and jewelry, intricately carved doors of mahogany and solid silver, delicate chandeliers, exquisite stained glass ceilings, decorative frescoes. The walls of the palace are painted with pictures of the Dasara processions which have been painted in such a fashion, that, from any angle it appears as if the procession were heading towards you.
The Dasara celebration is still celebrated every year—now as a 10-day State festival—but offered with all the grandeur and pageantry of old. The descendents of the royal family of Mysore still make appearances to the public during Dasara.  Cultural programs by famous artists take place in the Palace, including music and dance performances to which the entire public is invited. The traditional Dasara procession lead by elephant cavalry and horsemen leaves and returns to the Palace. The famous and spectacular royal throne made of 200 kgs of pure gold is on display. In last year's Dasara (Oct 2007) a vintage car and motorcycle rally was held, with cars like a 1909 Wolseley, Jaguars, Austins, Delage, and a 1934 Harley Davidson, previously owned by Maharajas were shown.
Click here to view a slide show of the Mysore segment of my trip.
The Desara celebration truly an historic event that takes one back through centuries to a time and place that to westerners will be scarcely believable. A trip to India that included this cultural event would surely be an unforgettable experience.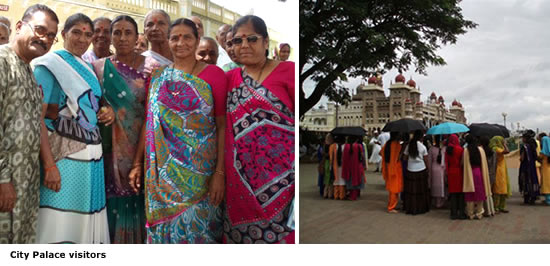 Days 14 To Bangalore—flight home. I have a car transfer from Mysore to the international airport at Bangalore, where I will board my first flight homeward in the evening,
My guide accompanies the driver and myself for the first leg of the 5-hour journey. 14 kms outside of Mysore we arrive Srirangapatnam. This was the capital of the Mysore State under Tippu Sultan. As a result there are a number of historical monuments related to the life and times of Tippu Sultan. After the death of Tippu Sultan in 1799AD the British shifted the capital back to Mysore.
The Daria Daulat Palace, the Palace of Tippu Sultan in Srirangapatnam is a beautiful Palace built mainly of teakwood. The walls of the Palace are covered with colorful frescoes that represent the reign of Tippu Sultan and the different battles that he fought including against the British. After visiting the palace, I sadly say goodbye to my wonderful guide who has been with me for my 3 days in Karnataka.
The traffic seems to get heavier by the minute the closer we get to Bangalore. As we finally reach the city, we are barely moving. There are carts pulled my oxen carrying statues of Nandi, the Elephant god (is the Nandi festival STILL happening, I wonder—hasn't it been with us this whole trip?).
Finally at the airport to join a formidable crowd and degree of chaos. Goodbyes to my diligent driver and some rupees to a porter to help me get checked in. Then a wait in a noisy departure hall full of people, most of whom are cheering the soccer matches on a few little TVs in the hall.
It is a long trip home. This time with a long layover in Singapore I rent a day room (only $50) and have a shower and a good sleep for 6 hours or so. Then it's another 13 hour flight, a few more Indian meals, a few movies, a lot of music listening on my essential IPOD, and at long last, I reach San Francisco.